January 23, 2023
Strength training or exercise in general, have always been in question when it comes to pregnant women. Many of these false claims come from old school thinking and a lack of legitimate research. It is remarkable how many pregnant women come to us still asking if it is safe for them to be lifting "X" weight, or doing certain exercises. In this 2-3 minute read we will breakdown common myths in the pregnancy fitness world to give your clear and concise information that has been backed by research for years!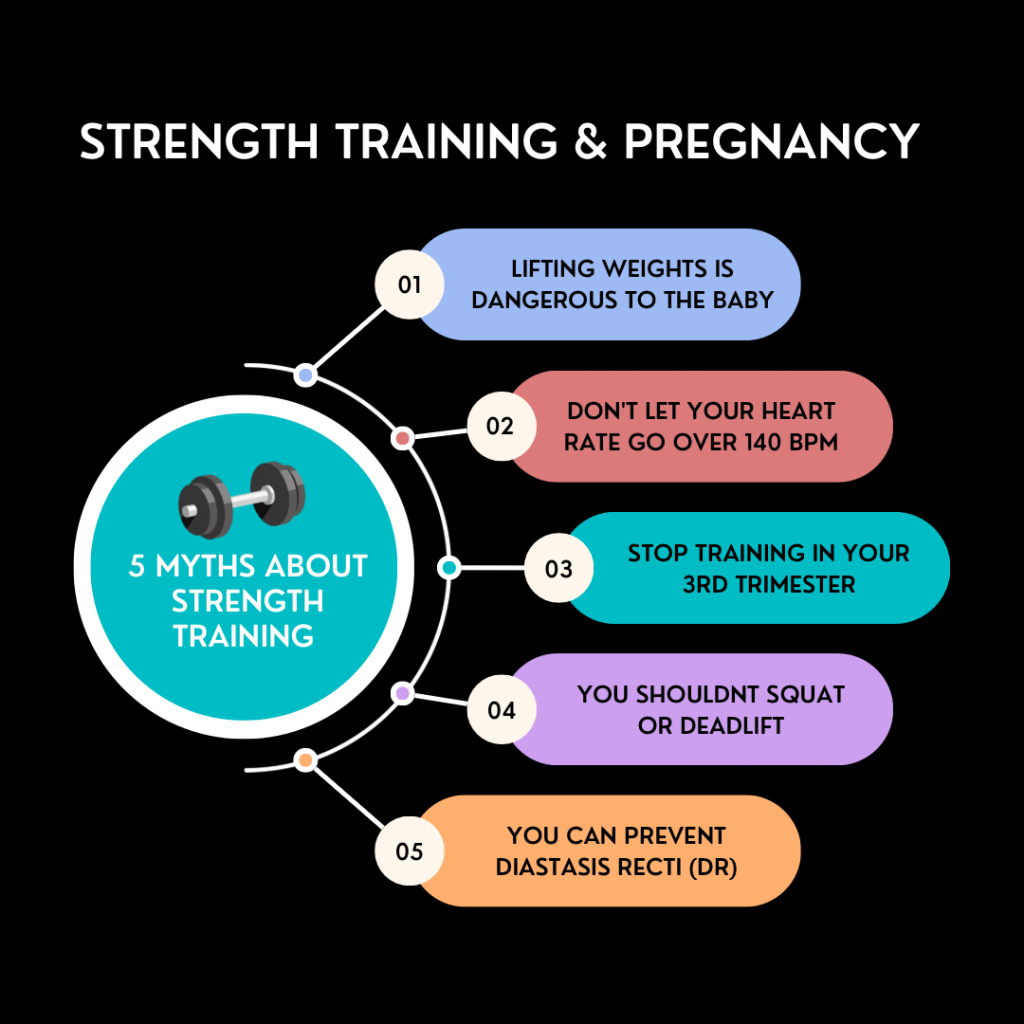 Myth #1: Lifting weights is dangerous for you and the baby. Actually it's just the opposite, research shows that prenatal exercise can lead to shorter labors, fewer complications throughout labor and easier recovery.
Myth #2: Don't let your heart rate go over 140 bpm. While there is a valid cause for concern with too high a HR, the 140 bpm guidelines come from old research. Use the talk test, if you can hold a conversation, and are not out of breath you will be fine.
Myth #3: Stop training in your 3rd trimester. If you are feeling OK, have adequate energy, and there is no medical reason for you to stop lifting then it's perfectly safe to lift well into the 3rd trimester. Many of our expecting mothers trained days before or even on their due date with consent from their physicians.
Myth #4: Don't squat or deadlift! You can squat and deadlift during pregnancy. Will you be maxing out or hitting heavy 3's? No, but you can squat and deadlift as long as you feel okay/don't have any symptoms. We aim to hit main movement patterns, giving the body a well-rounded basis of both mobility and strength. The goal is to maintain muscle mass and strength during pregnancy. Some clients gain strength and muscle which is great too!
Myth #5: You can prevent Diastasis racti (DR). DR is the separation of the abdominal wall, this happens as the baby grows. It happens in nearly all pregnancies, the good news is that a stronger core can help reduce the size and severity of DR. We do a variety of core exercises to ensure the expecting mother is receiving proper core strength input while remaining comfortable and avoiding positions that may be problematic. Much of the core training we do consists of resisting forces instead of creating force. For example, instead of crunches or lateral bends, we do a series of farmers carries and pallof presses. These help build the spinal stability by fighting against forces and train a large percentage of the core muscles around the entire torso.
Always verify with your healthcare provider to make sure that you have no contraindications for exercise.
Interested in getting started at Lift to ensure you have safe and quality training throughout your pregnancy? Hit the link below and shoot us a message! We would love to help in any capacity you see fit.